2009-11-18:

Thierry Henry and his 'Hand of God' |

3

Karma ++ --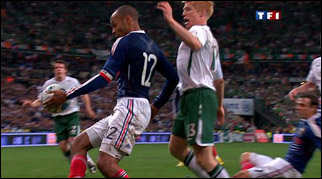 That should sum up my mood right now. Even if he was playing basketball he would've been called with traveling...
Anyone else outraged by his actions or worse his commenting on it please feel free to let FIFA know. I sent them this via http://www.fifa.com/contact/form.html
It is absolutely deplorable that FIFA deems it necessary to cover up the fact that Thierry Henry completely changed the course of the game via a blatant and intentional hand ball.
To not even mention that and to hide\delete comments by members is just a sad state of affairs.
Ireland was robbed hands down and it seems that FIFA and UEFA have no problems with this sort of behaviour.
Absolutely despicable. Any credibility that FIFA tried to hold on to is now more than gone.
I don't want a reply back and am done looking towards FIFA with hopes of fair play. The debacle that was 2006 World Cup and now this.
Yes, to make matters even worse FIFA and UEFA make zero mention of this incident although they did mention that Anelka was possibly fouled for a penalty kick. Seriously, I know FIFA has always had integrity issues but that's just getting batty.
To follow up I and I am quite sure others have posted comments on that article that it wasn't Gallas who broke Ireland's heart, it was Henry. Yet as you can clearly see all comments have been removed although the 1.2 star is still there.
Anyone interested here's some facebook groups:
And Twitter info:
Finally the things that bother me the most are that Henry isn't sorry for what he did and FIFA isn't going to do anything substantial about it.